Did you know St Kilda has a Community Bus??
The FREE Community Bus services all Port Phillip neighbourhoods, connecting Port Melbourne with St Kilda. Elwood, St Kilda West, St Kilda East, Ripponlea, South Melbourne, Middle Park, Albert Park, Garden City and Port Melbourne areas. These neighbourhoods are covered along 2 routes, by two buses continually looping throughout the day.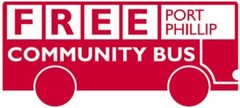 Both buses are wheelchair accessible, allowing many people who cannot access existing public transport services in the City of Port Phillip to be able to move around the city. The Service operates Monday – Friday, excluding public holidays.
Community Bus Timetable Route 1
Community Bus Timetable Route 2
Source: City of Port Phillip
Tram Routes:
There are a number of trams that run to and from Port Phillip.
The main lines to and from St Kilda are: Trams 96, 112, 79 and 16.
You can find the stop maps and more information here:
Tram 96: East Brunswick – St Kilda Beach
Tram 112: West Preston – St Kilda
Tram 16: Melbourne University – Via St Kilda Beach
The main lines to and from South Melbourne are: Trams 1 and 109
You can find the stop maps and more information here:
Tram 1: East Coburg – South Melbourne Beach
Tram 109: Box Hill – Port Melbourne
You can find more information about area routes to and from Port Phillip here : Port Phillip Public Transport
Source: Public Transport Victoria
Tracking your tram:
There is a free handy app for your Smartphone called the Tram Tracker – which will give you real-time tram information and tell you how far away each tram is for the stop you are near. It will also display icons if a low floor tram is approaching, if the tram is air conditioned and if there have been any disruptions. You can find this app here: Tram Tracker App